The GUNNAR 4001 Production Computerised Mat Cutter sets new boundaries in CMC performance. Not only is it the fastest and most advanced mat cutting system available. It has been proven and is the tested winner when it comes to reliability and efficiency in high end production framing businesses.
The Gunnar 4001 is the fastest computerised mat cutter with a breathtaking speed of up to 2000mm/sec (78″/sec). With the double cutting head, multiple production mats can be cut straight, saving time and wastage while still at the highest quality. The dual clamping system of vacuum table combined with pneumatic, countersunk button clamps, the Gunnar 4001 confidently allows you to cut to the edge of the mat board, safely and with no wastage.
Unlike the popular Gunnar 3001, the Gunnar 4001 is ready to be tested by the world's most demanding framing businesses and is designed for 24hr production.
You can cut foam board up to 3.5mm (0.13″) thick for picture frame backings with a perfectly square edge. The split clamping zones double your production with 'left-right' split clamping operation with two separate cutting zones which is utilises by a single operator.
The Gunnar 4001 has automatic blade depth. With this ability to cut combined v-grooves and openings in one step, you don't need to adjust or change the blade when cutting mat boards. This special feature allows you to cut mass produced double mats in one step.
You can operate this machine horizontally with no gravity related problems with off cuts slipping down and interrupting subsequent cuts. The height of the Gunnar 4001 is 860mm (33.85″) and is optimised for maximum operator comfort.
It is very easy to change the cutter blades in a matter of seconds. The Gunnar 4001 is designed by picture framers for picture framers and features and increased work surface of 190cm x 125cm (74″ x 49″) which allows for comfortable split table processing of untrimmed mat boards.
Something unique is the Gunnar guarantee's no start-finsih marks in circles and ovals. Gunnar also guarantees no hooking or curved cuts, regardless of the thickness, density or brand of your mat board.
The GUNNAR 4001 has the largest work surface of any computerized mat cutter.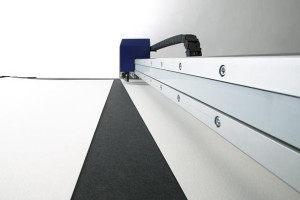 Two big standard sheets of mat board can be placed next to each other.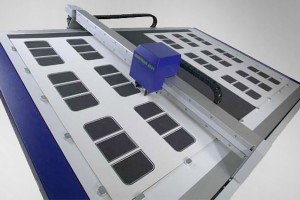 TAKE A LOOK AT THE GUNNAR CMC 4001 PRODUCTION COMPUTERISED MAT CUTTER IN ACTION BELOW.
Key Features of the Gunnar 4001:
• Large work surface of 190cm x 125cm (74″ x 49″)
• Mat fixation by either countersunk clamps, vacuum fields or both
• Both 45° and 90° cutting heads
• Optimizes waste by cutting right to the edge
• Two cutting fields, operatable alternately in COE mode for maximum output
• Four side all around cutting table operating access
• Ideal for large scale production, capable for 24 hour constant operation
• Highest processing speed available on CMC market today
This CMC machine is about as far away from the Logan Graphics 450-1 40″ Artist Elite Mat Cutter, Straight or Bevel Cuts
but you can still cut acceptable mats if you are just a hobby framer with a basic manual mat cutting tool.