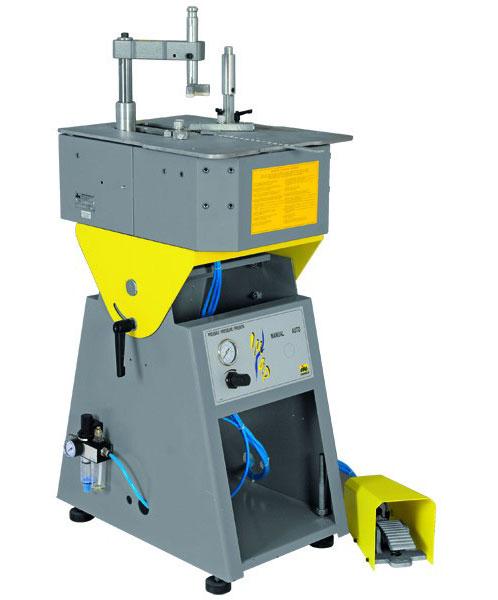 The Inmes IM-4P Pneumatic V-Nailers is for custom or production framers. It is tough, reliable and accurate.
With an innovative design which is engineered to withstand the demands of the busiest framing environment.
Very easy to use with pneumatic v-nail insertion which ensures precise and high quality frame joining and also a very high productivity.
An adjustable horizontal and vertical clamping system securely holds the moulding in place, hands free, during the joining process. It also has a single, adjustable vertical clamp.
There is a two stage, foot activated, moulding clamping system. The first stage activates the horizontal clamp while the second stage activates the vertical clamp.
The Inmes IM-4P can operate as an adjustable, tilting, counterweight balances workstation with extension arms all built in to a work bench.
The versatile sliding v-nail drive block assembly ensures quick and accurate insertion of v-nails across the width of your moulding all while the moulding itself remains firmly and constantly clamped in the on position.
Its heavy duty, solid block drive hammer prevents v-nail jamming.
You can insert single or multi-stack v-nails.
All v-nails are located in fast loading cartridges. It takes no time and no tools are required to change the v-nail size.
There is a metric scale for positioning of the front and rear stops for the v-nail firing joy-stick.
The machine features and perpendicularity adjustment, height adjustable levelling legs, inline air filter lubricator and an air pressure regulator and gauge. It has a single vertical clamping system and a large work area.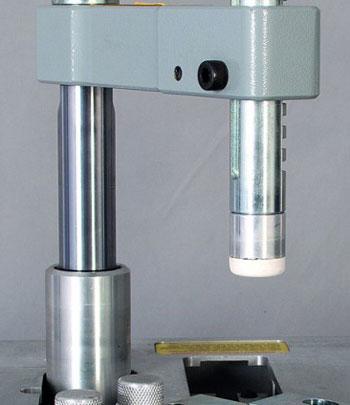 Machine Specifications
Moulding Size: 5-150mm (w) x 8-116mm (h)
V-nails: Cartridges, 7-10-12-15mm, soft & hard
Overall Size: 1114mm (h) x 507mm (w) x 606mm (d)
Weight: 85kg
Working Air Pressure: 0.10m3 per minute
Frame Capacity: approximately 150-180/hr
For a home framer you could use the Logan Pro Joiner