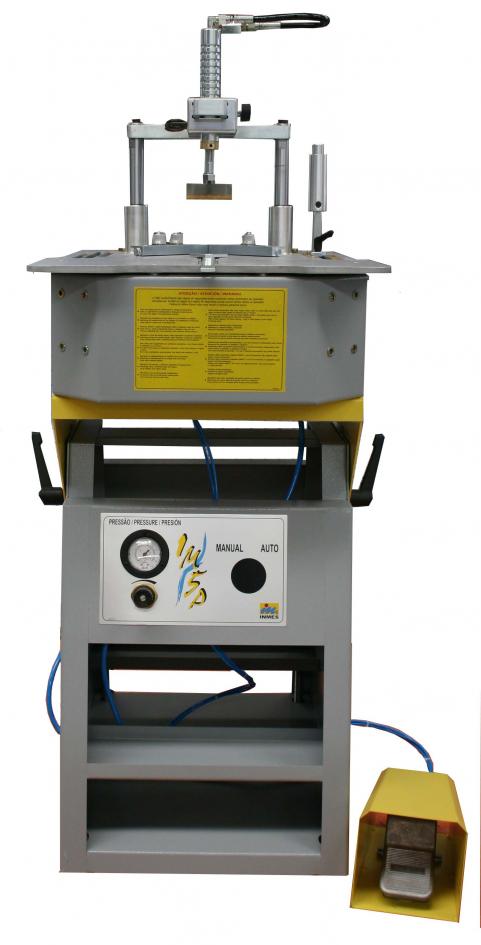 This machine is a very accurate, tough and reliable tool for the versatile custom picture framer. It's an innovative design and is engineered to withstand the demands of the busiest framing environment.
The Inmes IM-5P is a very easy to use machine with pneumatic v-nail insertion which ensures precise and high quality frame joining and very high high productivity.
The adjustable vertical and horizontal clamping system securely holds the moulding in place, all hands free, during the joining process.
With continuous auto levelling, twin hydraulics and adjustable vertical clamps that are capable of clamping any moulding profile no matter how complex.
You can easily adjust air pressure to either the horizontal or vertical clamps independently because each clamp has its own air pressure gauge.
This pneumatic v-nailer has a 2-stage, foot activated, moulding clamping system. The first stage activates the horizontal clamp while the second stage activates the vertical clamp.
This machine is an adjustable, tilting, counterweight balanced workstation with a large left and right extension arms for supporting big frames.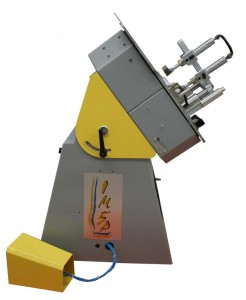 With a versatile sliding v-nail drive block assembly which ensures quick and accurate inserting of v-nails across the width of the moulding while the moulding itself remains firmly and constantly clamped in the one position.
The heavy duty, solid block drive hammer prevents v-nails jamming. You can insert single or multi-stack v-nails.
The ingeniously designed 'quick change' v-nail magazine for glued strip v-nails which doesn't require any tools or time needed. To change the v-nail size, you simply have to turn the dial.
There is a metric scale for positioning of the front and rear stops for the v-nail firing joy-stick.
You can also set front and rear stops for the sliding v-nail drive block to ensure accurate v-nail positions for production joining.
The v-nail firing joy-stick can be located on either the left or right side of the work area to accommodate user requirements.
With perpendicularity adjustment, height adjustable levelling legs, large work area, an inline air filter lubricator and an air pressure regulator and gauge; makes this machine really easy to use.
Machine Specifications
Dual vertical, self leveling clamping system;
Moulding Size: 5-153mm (w) x 8-102mm (h);
V-nails: Glued Strip, 7-10-12-15mm, soft & hard;
Overall Size: 1283mm (h) x 476mm (w) x 571mm (d);
Weight: 85kg
Working Air Pressure: 0.10m3/minute.
Frame Capacity/Hour (approx): 150 – 180
Ajustable, counterweight balanced, tiltable stand.
Two (left and right) large extension arms.
For a home framer you could use the Logan Pro Joiner