Are you tired of stretching your canvas by hand?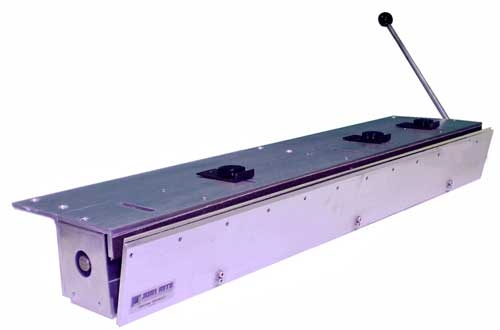 The Join Rite CS36 Canvas Stretch'r 36 Inch is a 915mm (36″) wide manually operated canvas stretcher that easily mounts on the end of a workbench. It takes up a mere 115mm (4.5″) of space and when your not using the machine the handle can be removed so it's out of the way.
This machine is designed to work with the canvas placed horizontally on the workbench and the user doesn't have to hold the canvas in the air while stretching it.
There are no special skills required and anyone can use this machine. With open ended clamps, which open up 25mm (1″) wide to accommodate all types of canvas, just like manual stretching pliers and the correct tension built in, even gallery wrap stretchers are a breeze to make.
The clamps are open ended so that people using this machine can stretch canvases that are longer that the machine itself. You can even connect several Canvas Stretch'rs together to handle the larger jobs. The Canvas Stretch'r operate with a single tension lever with no air or electricity required and once the clamp is closed, the operator has their hands free to insert the staples into the canvas. The tension lever can be fitted up to the left or right hand side of the machine to suit left or right handed people.
The CS36 can accommodate a stretcher bar up to 62mm (2.5″) wide and at any height. It is very sturdily built in the USA form steel and aluminium with a beautifully engineered internal operating mechanism. When using the Canvas Strecth'r, you can stretch a 1 x 1 meter canvas in under 3 minutes.
It beats the old hand method for large canvasses but if you are just a low-volume framer you couldn't go past the Holbein Pro Stretching Pliers
for a great pair of wide jawed canvas pliers.
WATCH THE CANVAS STRECTH'R CS36 IN ACTION BELOW