Keencut Ultimat Gold is a tough, versatile, precise, built to last and is extremely comfortable to use.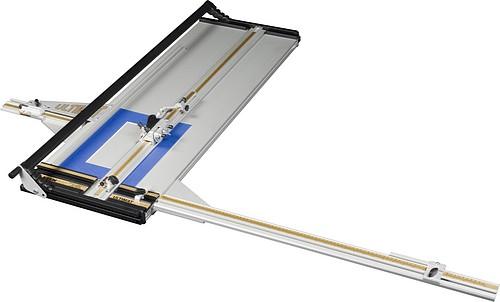 The most technically advanced, versatile and easy to use manually operated mat cutter in the world in the Ultimat Gold. The extra wide aluminium baseboard with integral grid markings will not warp, bend or break.
The cutting head of the Ultimat Gold is fully adjustable to ensure no sideways play and the ingenious production stops guarantee no undercuts or overcuts.
The precision cutting head has a sculpted shape for comfort and features ball and thrust bearings for superb precision. The bevel head has an ejector for quick blade changing and the vertical head can be locked in position to allow easy cutting of the thickest boards.
Unique "clip on" margin guide and squaring arm allows for easy removal when not in use. Unique roller "lift and hold" system raises or lowers the cutter bar and fress both hands. Unique gliding guage pinpoints blade entry and exit spots for exact freehand cutting.
Patented micro stop adjusters fitted to the "start of cut", "end of cut" and "margin guide" stops allow users to dial out overcuts or undercuts in seconds. Rear loading blade holder for swift replacement, blades will never pull out in thick materials.
VIEW ULTIMAT GOLD MAT CUTTER VIDEO BELOW
The Keencut has more features than the Logan Graphics 450-1 40″ Artist Elite Mat Cutter, Straight or Bevel Cuts
but you can still cut first class beveled mats if you are just a hobby framer with a basic manual mat cutting tool.