The perfect mat cutter for professional framers is the Valiani Libra CMC which is born to assist the user with excellent performance and extreme precision. This machine is targeted at companies that have medium volume production who require a reliable and robust machine.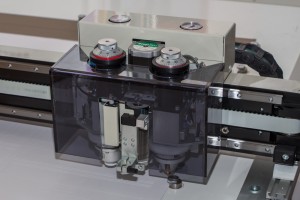 The Libra is equipped with 2 independent head holders and does not need to stop between different plotting processes and multiple combination cuts, which are all possible among all of the i-heads. The mat cutter can work on two different workstations or on a single oversized (1.9m) workstation which allows the user to process special or oversized materials.
With the large workstation, combined with a new button clamping system, not only provides incomparable working flexibility over a wide range of materials but also provides the user with unparalleled accuracy and flexibility to meet todays production challenges.
Dual Interchangeable Heads
There are two interchangeable heads and manual blade depth adjustment with increments of just 0.1mm, it provides much better quality control when working with various materials with different thicknesses. The maximum thickness is 5mm.
There are a range of cutting heads that can be attached to the machine such as the cord, 45˚ bevel, 40˚ bevel, embossing, plastic creasing, matboard/foamboard creasing, perforation and a pen head.
Pneumatic Clamping System
Innovative pneumatic clamping system that has fold away pins.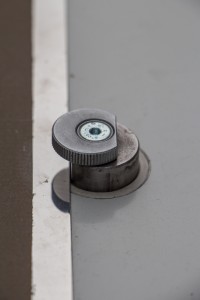 Dual Working Stations
This machine also features a dual work station which enables you to cut oversized sheets of up to 1250mm x 1700mm.
The Libra CMC is the perfect PP-cutting machine for professional framers. It is designed to provide the user with a high performance and extreme precision. The Libra is mainly used in companies with optimum medium volume production, this machine is very reliable for this purpose.
The machine is equipped with two independent cutting head holders which means you don't have to stop the machine between different cutting processes. This allows for multiple combinations with the optional i-heads. You can work on two different work surfaces or on one oversized work surface, which allows for oversized boards/cartons to be processed and cut.
With new retractable brackets which allow you to cut a wide range of materials right up to the edge with zero waste. The Libra can be used effectively to cut matboard and for a wide range of other materials such as corrugated cardboard, vinyl, PVC, polycarbonate, corrugated plastic and foamboard.
The machine can also be fitted on request with a camera for the position mark recognition. This Device, in combination with optional additional software will enable the user to contour the cuts on pre-printed materials.
Machine Specifications
Workspace: 1700mm x 1250mm
Height: 865mm
Length: 2210mm
Width: 1870mm
Weight: 216kg
Max speed: 750mm/sec
Pressure: 6 bar/90 psi
Current: 220V/50Hz/10A
You can view the video on Youtube here—>
Framing Equipment Reviews Valiani Mat Cutter Pen Head Tool
This CMC machine is about as far away from the Logan Graphics 450-1 40″ Artist Elite Mat Cutter, Straight or Bevel Cuts
but you can still cut acceptable mats if you are just a hobby framer with a basic manual mat cutting tool.